Document Shredding St Louis
Document Shredding St Louis is dedicated to providing cost-effective and secure shredding solutions for your business and home security needs. We understand the need to protect your most sensitive information as well as comply with all Missouri, Illinois, and federal privacy regulations.
About Document Shredding St Louis
Document Shredding St Louis can match you with numerous shredding service levels designed to meet all of your requirements for high security and all at a reasonable price.
No matter what you need to have shredded, Document Shredding St Louis will find you an affordable, convenient process that will work for you. Our network specializes in security and will send you a certificate of destruction for every job. Don't wait until it's too late, have you personal documents shredded today!
Residential Shredding in St Louis, MO
As rates of identity theft are on the rise, it makes more and more sense to shred your personal information before you toss it. Shredding services are not only for large businesses—the average home can benefit from these services as well. Click here to continue reading.
Our contractors have industrial strength equipment and are prepared to meet your destruction needs at every level. Our goal is to get you the perfect shredding service in St Louis. You get service, security, and excellent prices.
Give us a call at (314) 748-5204 or fill out the form on the top of the page for free quotes.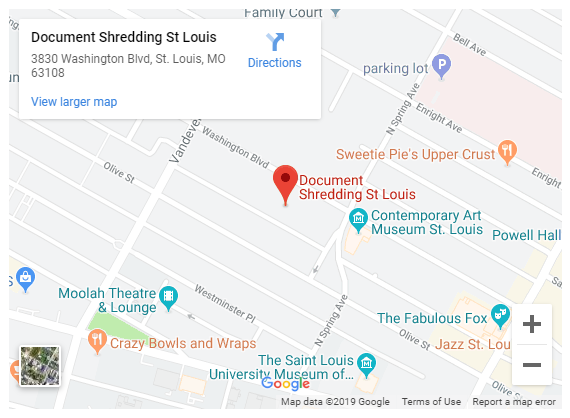 Get Free Quotes on Shredding in St Louis
St Louis Shredding Services
Service Options Available in St Louis
Ongoing Service – Weekly, monthly or quarterly scheduled shredding service is available. Secure, locked bins are provided at no cost for you to distribute throughout your location. A driver comes to your St. Louis location to shred the contents on a regular schedule.
Purge Service – For those requiring annual, one-time or occasional shredding services you can schedule one-time shredding. Pricing for this option is based on the volume of paperwork.